Elite Goalie Combine
This 1-day combine features 1 on 1 goalie evaluation and recruiting along with college recruiting/admissions planning and preparation work.
The Elite Goalie Combine offers a competitive and comprehensive recruiting showcase focusing exclusively on the goalie position. This unique, invitational program allows 1 on 1 exposure for goalies and NCAA Division I II and III college coaches. Our goal is to better prepare goalies for the college lacrosse recruiting process.
Head Men's Lacrosse Coach at Endicott College Eric Hagarty, and MLL Boston Cannons Goalie along with Sean Quirk National Championship goaltender and NCAA Division III Coach of the Year have teamed up to create a unique lacrosse combine that incorporates goalie recruiting and admissions planning into one comprehensive program to help you improve your goalie skills and recruiting opportunities.
Curriculum
The Goalie Combine offers a comprehensive program that covers all aspects of the goalie position through both instruction and evaluation. Each player will be coached and evaluated by a top tier staff of college coaches and the curriculum includes:
Goalie skill sessions and evaluation (Arc and Angle, Step, Body, Balance, Bounce Shots, High Heat, Pipe to Pipe, Ball Behind, shots on the run)
Admissions/recruiting Planning Seminar
NCAA Recruiting Seminar D-I D-2 and D-3 Coaching and Player Workshops
Video- Each goalie will receive a personalized recruiting video from the combine. This video will be sent to all coaches attending the event along with the ability to send to any requested Colleges/Universities
Camp Fee
The camp fee for Elite Goalie Combine is $250.
This includes:
combine evaluation and recruiting opportunities with a top tier staff of Division I, II and III Coaches
1 on 1 evaluation and coaching relating to all aspects of goalie play
Personalized goalie recruiting video sent to all coaches in attendance and available to be sent to any requested colleges or universities
Who Should Attend
Senior/Post-Graduates
juniors
sophomores
Freshmen
Directors
Eric Hagarty:
Head Coach Endicott College, 3x All-American Goalie, MLL Boston Cannons Goalie
Sean Quirk:
Head Coach Cannons Lacrosse Club (Premier Lacrosse League), NCAA Division III Coach of The Year, 9 NCAA Division III Championship Tournaments, 2x All-American Goalie, National Goalie of the year
College Coaches Attending
All coaches at Elite Goalie Combine are top Division I, II and III coaches from the premier programs in the country. In 2020 there were 50 college coaches in attendance
Visibility
Our goal is to bring NCAA Division I, II and III coaches together with top goalies from around the country. Players will also leave with a copy of their individual recruiting film highlighting all aspects of their game
SCHEDULE
We are excited that you have decided to be a part of the 2023 Elite Goalie Combine. We are looking forward to having you attend!
Check-in will begin at 11:30am
Below is the schedule for the afternoon and the combine will conclude at 5:00pm.
We are excited that you have decided to be a part of the Goalie Combine. We are looking forward to having you attend!

Below is the schedule for the combine:

Goalie Combine Schedule:

11:30-12:30-Check-in

12:30-12:45- Welcome/Staff introductions

12:45-1:05- Presentation "What makes a college goalie?"

1:05-1:30- Goalies to cages for warm-ups

1:30-4:30- Evaluation Station Rotations and film

4:30-5:00- Presentation "Recruiting Goalies: A coach's perspective"

Each goalie should bring their own equipment (Stick, helmet, gloves, chest protector, jock, cleats). Goalie Combine pinnies will be provided for all players day of the event. There will be a trainer on site if you have any medical questions or concerns.
Be Sure to Check Out Our Peak Goalie Training Programs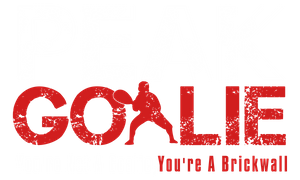 The #1 Camp in the Nation for 30 Years!
To be the best, you have to learn from the best. Peak Goalie has been #1 in the nation for more than 30 years. We have the experience and knowledge to help you achieve your goals at any level. You will learn both the physical and mental skills necessary to stop the other team in their tracks!
At Peak Goalie, we know the importance of the goalie position because we are goalies. You're the last line of defense for your team, and we strive to make you not only a goalie but a BRICK WALL.
The Peak Goalie 7 Step Progression
1) Ready Position
2) Arc/Angle
3) Step Body Balance
4) Bounce Shots
5) Pipe to Pipe
6) Ball Behind and
7) Clearing
The Peak Goalie Progression will get your game to the NEXT LEVEL! Above and beyond the 7 STEP PEAK GOALIE PROGRESSION you will also have the opportunity to watch yourself on film with a coach during the camp through the COACHES EYE.
Click to learn more about the programs offered at Peak Goalie: