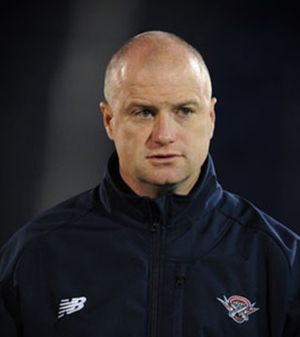 Sean Quirk
Elite 100 Director / PLL Cannons Lacrosse Club Head Coach
Endicott College: Associate Director of Athletics (current)
Head Coach at Endicott (1998-2015)
243-95 (.719) overall record, 123-11 (.918) in-conference record at Endicott
Ranks 13th all-time in winning percentage among NCAA Division III coaches
Ranks 16th all-time in wins among NCAA Division III coaches
Nine NCAA Tournament appearances ('01, '04-'07, '10-'11, '14-'15)
Five NCAA Tournament Second Round appearances ('05, '10-'11, '14-'15)
Eight CCC Championships ('01, '04-'07, '10-'11, '15)
2008 Field Turf/IMLCA Division III Coach of the Year
Four-time CCC Coach of the Year ('04, '06, '14-'15)
2014 NEILA Coach of the Year
2015 NEILA Man of the Year
Coached 21 All-American players including 2013 USILA Face-off Specialist of the Year Sam Ozycz '12 (MBA '13)
Coached 57 All-Region players including three Defensive Players of the Year, two Offensive Players of the Year, and one Rookie of the Year
Coached 143 All-Conference players including 15 Players of the Year and six Rookies of the Year
33 student-athletes named Academic All-Conference including 2013 Senior Scholar-Athlete of the Year Sam Ozycz '12 (MBA '13)
Assistant Coach at Springfield (1996-97)
Played at Springfield (1991-95)
1994 NCAA Division II Champions
1995 NCAA Divsion II Goalie of the Year
Two-time All-American
Coaching Philosophy
Coaching Philosophy
The concept of the Endicott men's lacrosse "family" began 18 years ago when Gulls head coach Sean Quirk took over a program in its third year of existence back in the fall of 1997.
Quirk had come from a national powerhouse in Springfield College where he was a two-time All-American goalie and competed on a Chiefs squad that won the 1994 NCAA Division II Championship and lost in the national title game one year later. After graduating, he stayed on as an assistant coach and Springfield continued to win games.
"In all my years at Springfield we were a close-knit team," said Quirk. "That closeness always helped us win games to build the tradition that exists there. The alumni would even come back to help mentor the undergraduate players and when I started coaching at Endicott, I knew I wanted to create that family atmosphere."
With a roster of just 19 student-athletes in his first season, Quirk knew the team would struggle at times and wins alone weren't going to keep them all together.
"In the first letter I sent to each of my players on that first team I stressed to them that this is a family. We're going to have our ups and downs, we're going to get on one another, but we're going to support and love one another. That is something we have maintained and talked about every day at our practices, in the locker room, and in games."
Words like accountability, dedication, hard-work, and discipline have been the foundation for the Endicott men's lacrosse program for 18 years. Quirk and his coaching staff have taught his players lifelong lessons over the years; about how to be good man, a good husband, and a good father by the time they leave Endicott.
Quirk's coaching staff is even peppered with Endicott alumni who have returned to the nest because that family atmosphere now exists. Current assistant coaches include three-time All-American Eric Hagarty '10 and masters degree recipients Mike Sciamanna '10 and Lars Keil '11. Former Gulls men's lacrosse stars turned assistant coach also include Steve Batchelor '03, Paul Lord '04, Ryan Fraine '06, Jeremy Gatta '08, Joey Gugino '09, and Bob Crossett '11.
"The head coach tends to get either all the glory or all the blame when it comes to wins and losses, but without that dedicated staff of coaches we can't get anything done. They are the ones grunting out the hard work and they believe in what we do."
Quirk comes into the 2015 season with 244 career coaching victories which places him 17th on the all-time win list for NCAA Division III coaches. While wins, another CCC Championship and berth into the NCAA Tournament, or the elusive national championship would be a great accomplishment, the glory that Quirk continues to relish in is much more meaningful.
"The thing you I appreciate equally to the wins are the relationships that come out of being a part of this program. We have our annual alumni game and social and I get to see our former players get married, have children, and succeed in the real world. These people are special to me and to my family and that really is the biggest reward from coaching."