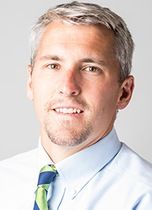 Eric Hagarty
Peak Goalie Director / Head Coach Endicott College
Head Coach at Endicott (2016-present)
39-39 (.500) overall record, 28-4 (.875) conference record at Endicott
2019 CCC Finalist
2018 CCC Finalist
2017 CCC Champion
2016 CCC Finalist
Coached four USILA Honorable Mention All-Americans
Sixteen All-Region honorees among ECAC New England, IMLCA, and NEILA organizations (includes honorable mention student-athletes)
Three CCC Short-Stick Specialist of the Year, One CCC Defensive Player of the Year, One CCC Scholar-Athlete of the Year
38 CCC All-Conference selections
Fifteen CCC Academic All-Conference honorees, including a program record nine selections in 2017
Assistant Coach at Endicott (2011-2015)
Program went 71-29 (.710) overall, made two NCAA appearances, captured two conference championships, and one ECAC New England title
Coached 15 USILA All-Americans
Student-athlete at Endicott (2007-2010, MBA 2011)
Bachelor of Science, Business Administration
Selected in the 2012 Major League Lacrosse (MLL) Supplemental Draft in the 18th round (144th overall) by the Boston Cannons
Three USILA All-America selections
One USILA Scholar All-American honor
Ended his career as the program's all-time wins leader (48)
NCAA Division III statistical champion in goals against average (5.43) in 2008
Two ECAC Defensive Player of the Year awards (2008, 2010)
Three-time All-CCC first team selection
Twice named to the Tewaaraton Trophy Watch List
Coaching Philosophy
Hagarty says that culture is the biggest aspect of his team, "It's a young culture. Coach Quirk and Coach Wylie started the program in the late 90's and that's something that we've really rallied around as a coaching staff and as a team, is that we are in the business of building that tradition. So one of the big points we rally around is that our alums who have been here over the last 15 to 20 years have built something really special in a short amount of time."
"Building things like discipline, accountability, and working hard, those pieces of culture, that's been the foundation of every successful team that's come through Endicott."
During the recruiting process, the coaching staff is looking for student-athletes who can be catalysts to the growth of the program and help take the next step in making program history.
"In terms of lacrosse, being a great athlete, IQ, skill and ability are important but coachability is something huge that we look for. Not student-athletes that are just talented and think they can come in and play right away but those that we can develop and help them become better players."
Another key component to the program's success has been a family mentality, "Our guys connect with each other, commit to each other, hold each other accountable and develop into a family that loves each other. That's really the catalyst for our success so as we build a program we focus a ton on family, building great relationships and helping each other along the way. We think that is the X factor of being successful."
Bio
Eric Hagarty '10 completed his fourth season at the helm of the Endicott men's lacrosse program in 2018-19.
In his first year with the program, Hagarty led the Gulls to a 9-9 overall record, a 7-1 mark in Commonwealth Coast Conference (CCC) play, and an appearance in the conference championship game. Hagarty then led Endicott to its ninth CCC title in program history in 2017 with a 12-9 win over Western New England. The Gulls, who finished the year 10-8 overall and a perfect 8-0 in conference play, also made their 10th NCAA Tournament appearance against No. 8 nationally ranked SUNY Cortland.
Prior to becoming the head coach of the program, Hagarty spent five years as an assistant coach with the Gulls helping guide the team to a 71-29 overall record, five CCC playoff appearances, two NCAA appearances, a pair of conference titles, and one ECAC New England crown.
As a student-athlete at Endicott, Hagarty excelled academically as a business administration undergraduate with a concentration in management en route to being named a USILA Scholar All-American in his senior year, remained with his alma mater where he has also served the College as an Assistant Director of Admission. In 2011, Hagarty also completed his master's in business administration from Endicott.
His athletic achievements during his four-year career at Endicott are lengthy starting with three USILA All-American Honorable Mention nods in 2008, 2009, and 2010, two CCC and ECAC Defensive Player of the Year awards in 2008 and 2010, and three All-CCC First Team accolades. He was also twice listed on the "Watch List" for the Tewaaraton Trophy which is given annually to the most outstanding American college lacrosse player.
Hagarty ended his career as the program's all-time wins leader (48) and sported a 6.73 goals against average and a .609 save percentage over 70 games played. His 5.43 goals against average as a sophomore in 2008 was the best performance among all goalies in NCAA Division III lacrosse that season.
As a defensive-minded assistant coach, Hagarty has worked with seven USILA All-Americans including a three-time honoree between the pipes and rising senior Cameron Bell (Falmouth, Maine). He has also coached two-time USILA All-American defenseman Breck Merritt '14 and senior year winners Andrew Pochebit '11 and Ian Knechtle '15. Endicott captured the 2011 CCC Championship and advanced to the NCAA Second Round in his first year as an assistant coach and this past spring helped Quirk cap off his coaching career with one final conference title and NCAA postseason win.
Despite his commitments to coaching and being a valued member of the Endicott College Department of Admission, Hagarty has continued his playing career as a goalie for Major League Lacrosse's Boston Cannons. He was first selected by the Cannons in the 2012 MLL Supplemental Draft in the 18th round (144th overall) and in 2014 was chosen again this time in the 11th round (83rd overall).
(Updated as of 3/26/2020)